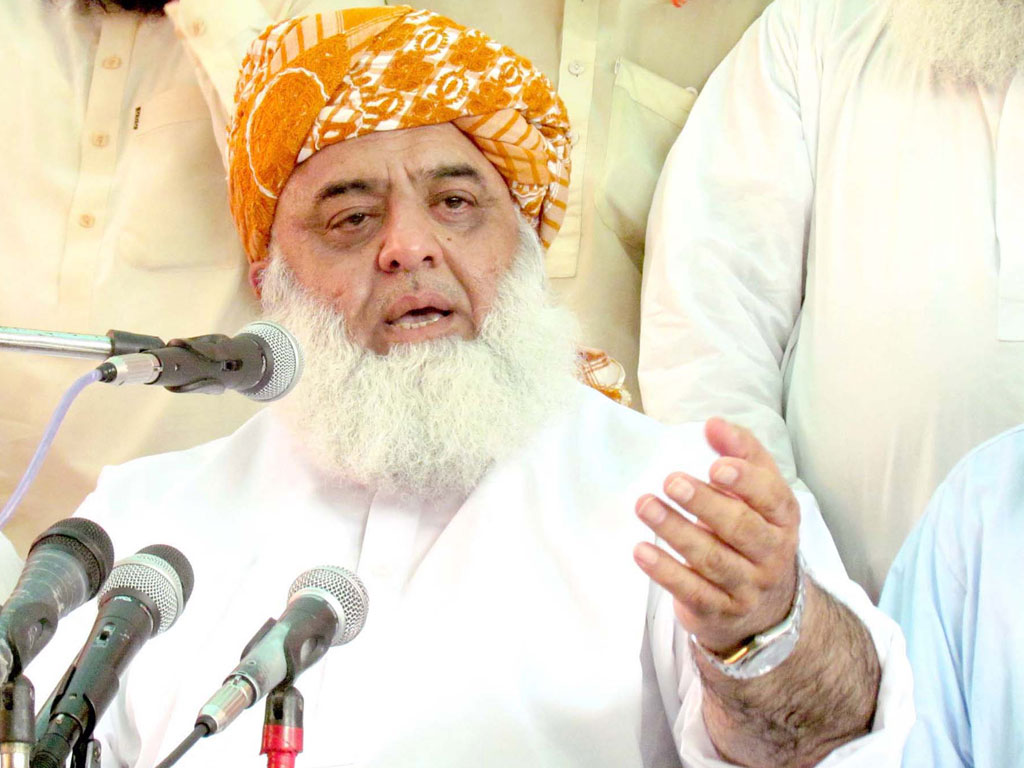 All Opposition parties want the PTI-led government to go, but Maulana Fazlur Rehman's JUI(F) appears to be desperate. Others are confused, if not apprehensive, as to how his sit-in would play out. But the maulana has no such confusion; he can no longer wait for them to come up with firm commitment to join him in his 'Azadi March'. On October 27, he said that "Caravans from all over the country will reach Islamabad, stay there and send this government packing". "We have a plan-1, plan-2 and plan-3 ready" to meet any eventuality. Will his sit-in continue indefinitely? According to him, his answer is: "we are not coming with intention to go back in haste". He also did not rule out the possibility of pupils of religious seminaries joining the march. But if he thinks his prolonged sit-in at the D-chowk would send packing the Khan government then he is mistaken. Imran Khan too was there for four months, but the Nawaz Sharif government did not fall. The only tangible outcome of that sit-in was chaos and disorder that led to, among other things, the postponement of President Xi's scheduled visit. Not only did the government of the day recover its composure, the protesting PTI legislators also returned to parliament and patiently waited for the government to complete its tenure. However, that's doesn't seem to match Maulana Fazlur Rehman's announced plan. That's certainly is an issue that deserves serious thinking on the part of all who want the democracy boat afloat even if the sea is in ferment.
Given the perils most likely to beset the aftermath of the 'Azadi March' it is time that not only sane elements in the civil society should persuade the Maulana to rethink his adventure, others, too, who share his mindset against the present government but are also mindful of its lethal consequences to the democratic system in the country, owe it to the people and the country to openly reject his plan. Never before has the country confronted so severe existential challenges. The enemy is knocking at the door - a reality that demands national unity and cohesion. Don't we see how conspicuously, Modi's otherwise political nemesis and even India's highest court support his planned pogrom in Occupied Kashmir. National security should not be held hostage to political vendetta of a person who wants the government to go only because he is not part of it. Also, this dilly-dally on the part of PPP and PML (N) leaderships is unbecoming of their oft-declared unstinted commitment to the cause of democracy.
It is no secret that JUI(F) is a religio-political outfit having a large committed cadre of madressah students. When called to lockdown Islamabad, they would be in the forefront, and ready to offer sacrifices for the glory of the JUI(F). Agreed, all 15 previous 'million' marches of JUI(F) were largely peaceful, but only because these were allowed under the law. In this case there is no certainty that the marchers would keep their calm when stopped from reaching the place under interdiction. Quite rapidly the situation may get out of control of the marchers' leadership, and thus bring to an end Maulana Fazlur Rehman's dream for snap elections. That democratic process should crumble just because the JUI(F) lost its monopolist hold on Khyber-Pakhtunkhwa to the PTI is a notion that is unacceptable. The JUI(F) march is purely a political adventure. By no stretch of imagination can it be termed an effort for 'Azadi' for the people of the Indian-occupied Kashmir.
Copyright Business Recorder, 2019